The Man Behind Ventura's Best Smiles & Faces
"Quality is never an accident; it is always the result of high intention, sincere effort, intelligent direction and skillful execution; it represents the wise choice of many alternatives."
- William A. Foster.
BEST in USA Prosthodontist: Dr. Saj Jivraj earned his DDS (Doctor of Dental Surgery) at the University of Manchester, he decided to go further in his studies. He was accepted into the world-renowned Herman Ostrow School of Dentistry at USC, where he mastered the art and skill of mouth reconstructive procedures. After finishing his three-year program, he became a fully certified prosthodontist, giving him among the best abilities of any dentist in Ventura.
Incredible Instructor: Dr. Jivraj also holds faculty positions as an Associate Clinical Professor at the USC School of Dentistry, clinical teacher at the Eastman Dental Institute in London and is on the Board of Directors for the British Academy of Restorative Dentistry.
Leader Among the Dental Industry: Dr. Jivraj has published numerous articles on cosmetic and implant dentistry in peer reviewed journals. He co-wrote the textbook "Treatment Planning in Implant Dentistry," which is published by the British Dental Association. He also is the former Chairman Section of Fixed Prosthodontics and Operative Dentistry at the USC School of Dentistry.
Published Author and Mentor: Dr. Jivraj currently is on the editorial board of the Journal of Esthetic and Restorative Dentistry, is the ad hoc reviewer for the Journal of Prosthetic Dentistry and is Associate Clinical Editor for Dental Teamwork magazine.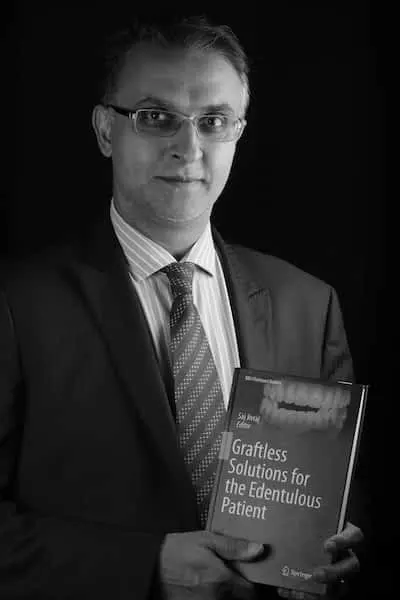 HOW CAN DR. JIVRAJ HELP WITH YOUR SMILE?
Let's Talk About What You Want For Your Smile And Overall Health.
COMPLIMENTARY CONSULTATION WITH DR JIVRAJ
If you are looking for Affordable Dental Implants, Implant Supported Permanent Teeth, Teeth In A Day, All-on-4® Dental Implants, Snap On Smile, Dental Implants For Dentures, Smile Makeover In A Day – Dr. Jivraj From Anacapa Dental Art Institute, located Conveniently in the Oxnard, Ventura County, CA emerges as a clear choice for all your Cosmetic Dentistry needs. Our Dental Office at Oxnard, CA is Accessible to Everyone in Ventura, Woodland Hills, Camarillo, Oxnard, Calabasas, Thousand Oaks, Simi Valley, Hidden Hills, Lost Hills, Agoura Hills, Malibu. Dr. Jivraj – A California's Top Cosmetic Dentist and Dental Implant Specialist Has Patients All The Way From Los Angeles to Santa Barbara.
Spaces Limited Due to Dr J's Teaching Schedule
Call Now to Reserve a Space!
Anacapa Dental Art Institute
2821 North Ventura Road, Bldg H
Oxnard, CA 93036
---
CALL US!
(805) 988-3320
Monday          -          8:00am - 6:30pm
Tuesday         -          8:00am - 6:30pm
Wednesday   -          8:00am - 6:30pm
Thursday       -          8:00am - 6:30pm
Friday             -          8:00am - 6:30pm
Saturday        -          8:00am - 1:00pm